Install CeontOS 7.3 on VMware vSphere ESXi 6.5.
Use the free (Essential) version of ESXi. Unfortunately, since vCenter can not be used at no charge, it is a standalone configuration. For the guest OS use the Linux distribution CentOS. Since CentOS is open source, it can build environment all free.
Environment
Physical server: DELL PowerEdge T110 II (reviewed / purchased as following article)
en-designetwork.hatenablog.com
Hypervisor: VMware vSphere ESXi 6.5
Virtual server: CentOS 7.3
PC: Chromebook Acer C720
Web browser: Google Chrome
Install ESXi 6.5
Evaluation version is registered from MyVMware and downloaded. Because installation is like the wizard and there is no particular problem, omitting it.
Download the ISO image from CentOS 'official. I use Minimal because I want to set up various things by myself.
Mount the ISO image on the created virtual machine and start it. Although the console does not change much from the conventional one, ESXi 6.5 does not require the vSphere Client and can be managed from the Web with the vSphere Web Client. (Sorry in JP's figure)
From here it is the normal CentOS setup.
Respectively.
DISK setting · The network screen does not display well
While setting up DISK, it seems that there is a problem that some of them are not displayed properly.
Scroll down and check "Make your partition yourself" and click "Done".
The right part of the screen is burned... Even if you widen the window, the horizontal display area does not spread...
It may be a problem of PC · Web browser ...
Even when trying to change the resolution from the upper gear action it has no effect...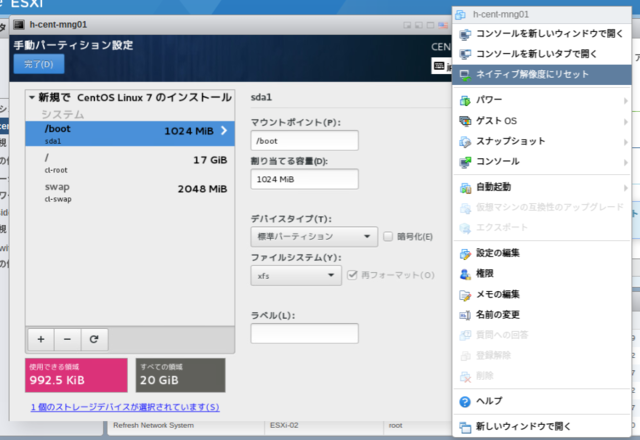 When you scroll down on the partition setting screen, there is a "setting..." button, so change is applied here.
On the network barely ON/OFF buttons are toggled but set button is not visible ... Although it is possible to skip the cursor well with Tab, it seems good to set nmtui/nmcli after setting the network.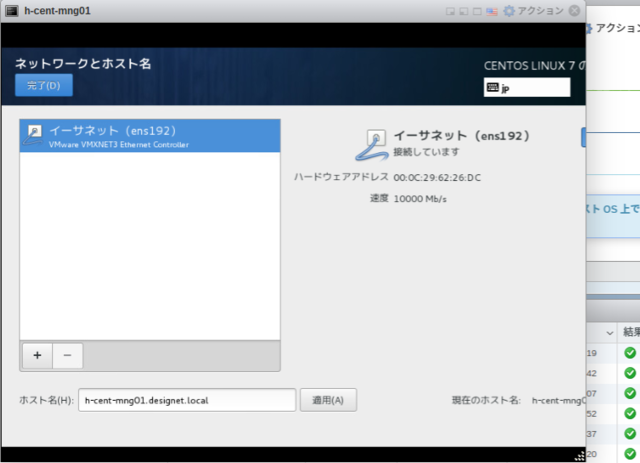 Note on key mapping
You can change key mapping from gear action. Unless it matches the language used here, unexpected symbols are entered when the symbol is used with a password or the like.
Conclusion - Install CentOS 7.3 on ESXi 6.5 (VM console problem??)
I installed CentOS 7.3 from VMware vSphere ESXi 6.5 Web Client. There seems to be a screen display problem on the console of the VM, but if it is only the initial installation, there is no problem.
It can be verified in a free and free virtual environment.